Review: Backblaze.com vs. CrashPlan: Which is Best for Mac Users?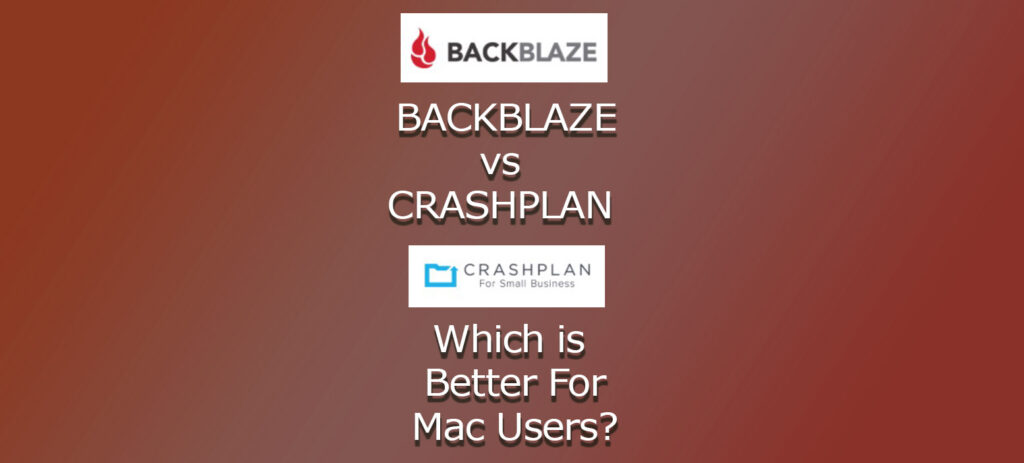 Backblaze and CrashPlan are two very popular unlimited cloud backup options. Which is better for Mac Users (in my opinion)? I'll tell you right up front that each one has its advantages and disadvantages, and my goal in this article is to help you make the right decision for your needs. And even though I primarily use computers running the Mac OS, both of these companies run well on computers running Windows OS.
In this article I will look at features, pricing and ability to recover images quickly (and by the way, the word quickly is definitely relative!)
If you are not backing up your images to at least one location outside of your home or studio (and at least two inside), you could be just one lighting strike, power outage, theft, flood or dropped drive from losing all (or many) of your precious images, videos and other files. With that in mind, I recommend a subscription to either CrashPlan.com or Backblaze.com. Both offer online cloud backup, and their most popular products offer unlimited data.
MAIN FEATURES
The main features and benefits of both CrashPlan and Backblaze are that both can make copies of the data on your internal and external drives without any intervention once you set them up. One thing to note, however, is that both will exclude some system files, whether you use a Mac or Windows. This means that the services can not be used to rebuild an operating system. For that, you will want to create a separate bootable "clone" of your system (or use a tool like Apple's Time Machine) so that your applications (and any associated passwords, serial numbers, etc.) will be preserved. This is one of the main things that a lot of people don't realize about CrashPlan and Backblaze.

COSTS
The cost of CrashPlan for Small Business is about $10 per month to upload unlimited data to CrashPlan's servers from one computer (includes external local drives that are directly attached to your computer). The cost of Backblaze Unlimited Personal Backup is $6/month (or $60/yr / $110 for 2 yrs). Backblaze Business Backup and Backblaze B2 are also available, but they are not unlimited. Backblaze also has a few other options that can be chosen in conjunction with their Unlimited plan, which I'll describe in the next section.
BACKBLAZE'S EXTENDED VERSION HISTORY
In late 2019, Backblaze introduced a feature called "Extended Version History" for their Unlimited plan which, when added to your account, will cause Backblaze to retain all of the files that you upload to their service (even if the drive and/or computer is set to not back up to Backblaze) for either a year or "forever." The added cost of this feature is $2/month for the One Year option, or $2/month plus $0.005/GB/month for versions modified on your computer more than one year ago. I personally have chosen the One Year option because I have multiple Terabytes of data on Backblaze and don't see the need for the "forever" plan because it's easy for me to make sure that all of my external drives that are backed up by Backblaze are connected at least once a year.
This is MUCH better than the previous (default) situation before I upgraded to the One Year option. Before, if an external drive had been disconnected for just 30 days, Backblaze would start deleting the data from their side (see below for a way to extend this, but it is not nearly as foolproof as just paying the extra $2/month). Having your data deleted from their servers could leave your data vulnerable and waste months of time if you have a lot of data (over 1 TB) and less-than-optimal upload bandwidth (bandwidth is generally described in X Mbps (Megabits per second), and there is an separate upload and download speed).
There is a way to "trick" Backblaze (see article HERE) so that you can conceivably keep a hard drive disconnected for up to six months, but I don't recommend that approach now that Extended Version History is available. One thing to keep in mind: Even though your files will still be on their system, after 30 days, Backblaze will need to go through a "deduplication" process to compare what is on your drive and what's on their server. It essentially looks like you are backing up everything again, but it will be much, much faster.
WHICH IS BETTER?
I personally believe that Backblaze is a superior product with regard to the speed at which it can send data to their datacenter. I also prefer the Backblaze interface, which I find easier to navigate and understand. That being said, for many of my clients, I recommend CrashPlan because they will never delete your images, video and other files from their system as long as you set the preferences to never delete data (you do of course have to keep paying for the service!). This is superior in my opinion to Backblaze's plan because you could conceivably back up a pile of hard drives to their service and then put them on a shelf or store them offsite (even better!), without ever having to plug them in again, which you would need to with Backblaze Unlimited either every 30 days or at least once per year.
Both services allow you to schedule the recovery of files online that you have stored on their systems. But one of the BIG ADVANTAGES of Backblaze is that you can request to have a hard drive or USB Flash Drive sent to you with some or all of your files on them. Plus, you can get a full refund (just pay the shipping back to them) if you return the drives. Even though it may take a few days for the drive(s) to reach you, it's well worth it in my opinion if you have a very large amount of data or if you have "data caps" (your ISP limits the amount of data you can upload or download).
Of course, no Cloud provider is perfect, and it's critical to have at least two other copies of your data, as I mentioned earlier. On the topic of deleting files from their backups, Backblaze.com will start deleting your images from their servers (not your local drive/computer) after a certain time period (as few as 30 days) if the system notices that your media (usually one or more hard drives), has been disconnected. The same issue can happen if your computer has not been powered on for a while. You can read more about the specifics of when your data may be deleted from their servers on their website HERE, along with a "trick" that I mentioned earlier in this article.
MY PRIMARY WISH LIST ITEM
I would love to be able to "seed" my data by sending either CrashPlan or Backblaze a hard drive with Terabytes of data, thus eliminating the need to upload the first batch of data via a relatively slow cable connection. I believe this is not permitted because the services allow unlimited data, and sending a large drive would require the companies to make room for the data, which can cost many times the annual fee. There is a seeding option for people will a massive amount of data and large bank account. It's called the Backblaze B2 Fireball, and it has a maximum capacity of 70TB (with monthly fees based on storage, unlike the fixed fee unlimited plan). This is definitely something to consider if you have a LOT of data that you would like to back up. You can read more about the B2 Fireball HERE. 
CONCLUSION & SPECIAL OFFER
I hope that you've found this review to be helpful. The most important thing is to backup your files, and I think that both CrashPlan and Backblaze are fantastic tools that should be seriously considered by just about anyone. If you would like to give Backblaze a try, please consider signing up using THIS LINK, If you become a client after using the link, we'll both receive a free month of Blackblaze Unlimited (about a $6 savings).
DISCLAIMER 
Please note: All of the opinions expressed above are my own. I have not been compensated by any companies for writing this or any other article on this website.